Tickets sold out within minutes, and my husband knew our chances of taking the boys to the 2019 Star Wars Celebration were about zero. But only a week before the event we got off the wait-list and got tickets! The kids were going to love it! I mean, this was Star Wars.
On the day of the Star Wars Celebration, we all got into our costumes and drove an hour into Chicago. But the whining started as soon as we got there. I don't mean the kind of whining that's sort of cute and makes you laugh on family sitcoms. I mean, the kind of aggressive whining, complaining and angry badgering that makes you want to yell something old school at your kids. I was risking a mom meltdown.
I tried my usual parenting techniques.
I tried doing what I did when we visited NASA by imagining what it was like to be the kids in this situation. They were excited. The kids had been very particular about making sure their costumes were just right. They probably had an idea would be something like, what the Star Wars experience was like at Disney World. In other words, pure magic.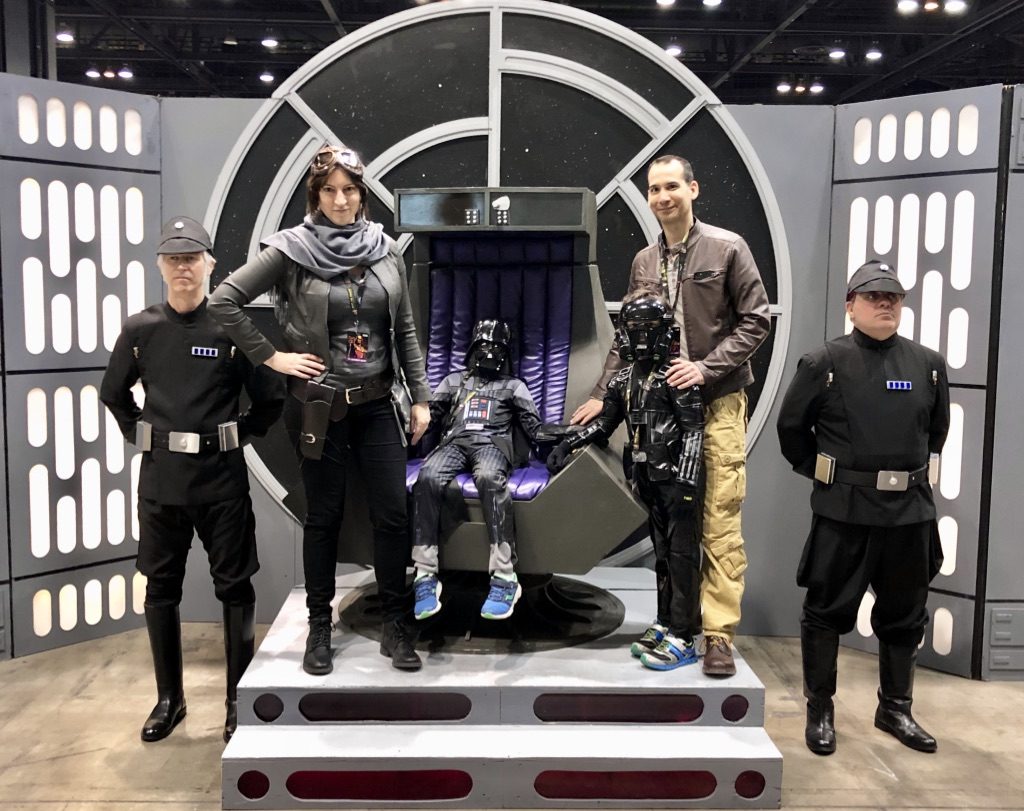 And then we arrived at a big conference center. It just a huge crowded conference space, without any rides. Everything was way too loud. The kids grew increasingly upset because they felt like we weren't listening to them. Actually, we simply couldn't hear what the kids were saying to us at all, because they were wearing costume masks.
It was crowded and it was too loud, and so far I couldn't figure out what was fun. So yeah, I understood what it was like to be them. When I used the 3S method at NASA, we took them to a playground area and let them be kids instead of expecting them to be excited about exhibits. We tried something similar here, and went to the LEGO Star Wars area where about 40 other kids were happily building legos. But my kids claimed they didn't know what to build and continued to follow us around complaining.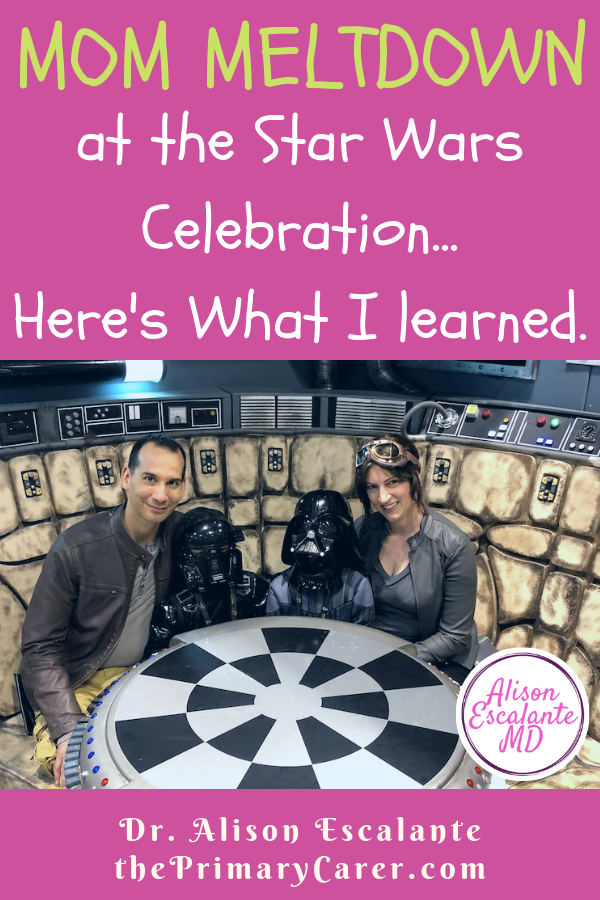 They pushed me over the edge at lunch… Mom meltdown.
We had just enough time to feed them before lightsaber training, so we dragged them to the crowded food court. We bought cheeseburgers, and sat down to eat… in the crowded noisy cafeteria. When we sat down at the table, one of my kids was suspiciously looking at the cheeseburger and trying to pull one of the pieces of cheese because it was the wrong color. And the other one was refusing to take a bite, yelling that the burger and the bun were not lined up just right.
I melted down. I really don't remember what I said, but it was something like, "I can't take it anymore, you have been complaining all morning and you are ruining this experience. Just eat your food." I was loud and frustrated, and everyone around us could hear me. Suddenly I realized I was smashing my son's cheeseburger together so it would stay like it was supposed to.
My husband said something quiet to me. Thank goodness he was holding it together. I looked at him and said, "I can't sit here, or I am going to make a scene." So I walked over to another table, I plopped myself down at the seat at the end. Then I ate my food and drank a full glass of water. What I did not do is what I teach parents to do: I did not use the 3S method. I was so overwhelmed that in my mom meltdown, I did not remember to Sigh, See and Start.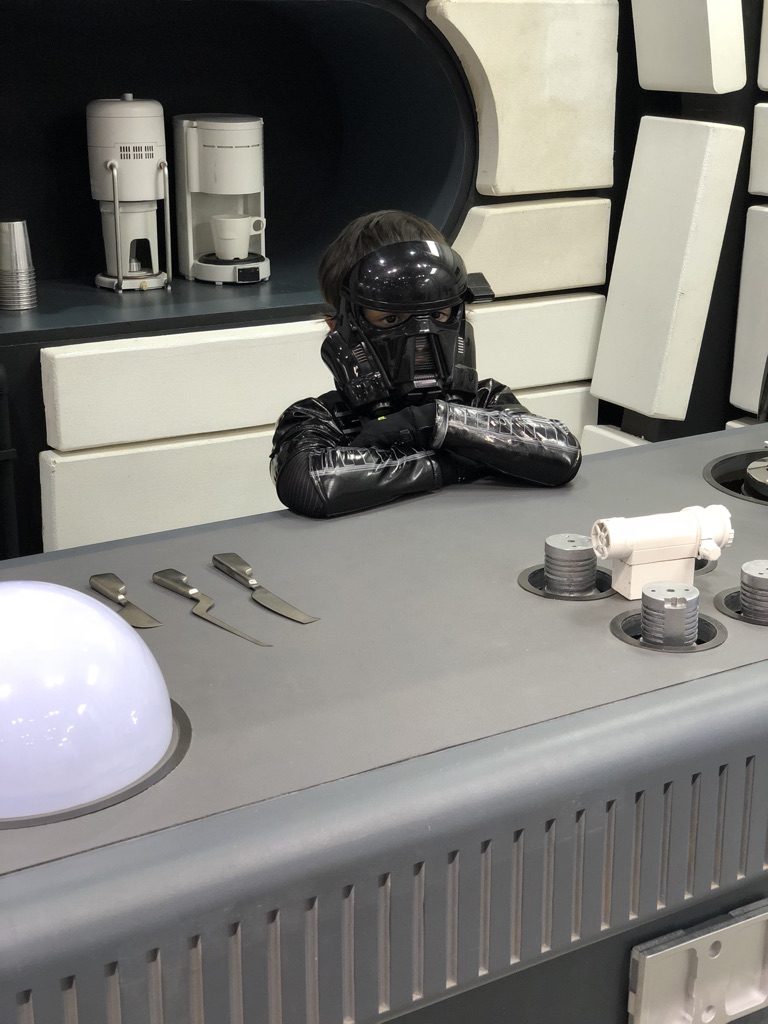 I had a Mom Meltdown for the same reason the kids were complaining.
The reason I was having such a hard time managing my behavior was the same reason that the kids were having trouble. I melted down because it was just too loud and crowded. My feet already hurt from walking around and I was not having fun. I knew I would have enjoyed seeing the life-size Tie-fighter and X-Wing if it had been just the grownups. After all, I grew up on Star Wars. But we came for the kids, and the kids were the reason I was losing my mind.
I only stayed at the other table long enough to eat quickly. When I felt I was an adult again, I went back to sit with my family. There was a man sitting right across from me, who was right there when I chastised my kids. "Hey," I said to him, "I apologize for disturbing your lunch a minute ago." He said, "Oh my goodness, you didn't at all. I can't imagine bringing kids to this." I replied, "Yes, I just had a Mom meltdown there." He laughed and then we had a very nice chat and I learned that he had flown in from San Francisco for the Star Wars event. He was very friendly, like absolutely everyone else I met at the event that day.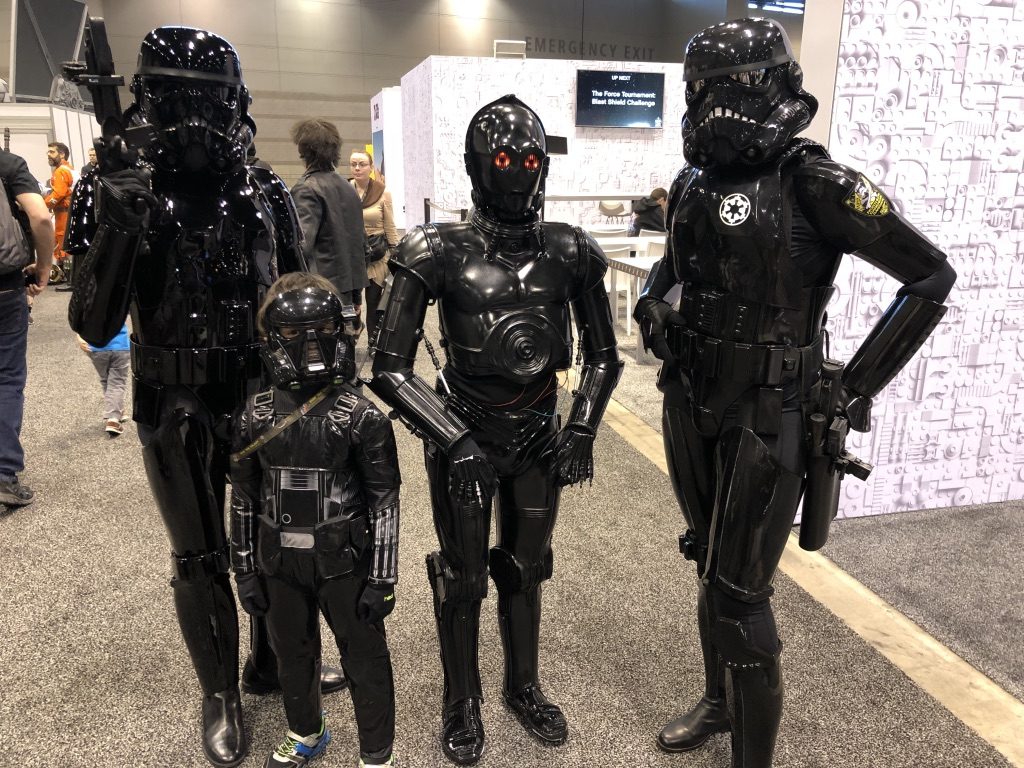 After that, we dragged our protesting but fed children to lightsaber training. As we found our way through the massive venue, I noticed it was growing more quiet. At last we reached the children's center, a big room far from the craziness. I felt myself relax.
"Look," said my husband, "they are starting the kids with force meditation." About 60 kids from ages 3 to 11 were seated like little yogis, meditating. The kids had a great time as soon as the lightsabers were passed out.
The day did not get better.
I was really hoping that the kids would now get more into the day. After all, in similar situations in the past they had reset after food and little play. But not that day; when we went back into the noisy crowd we all started to fall apart again. And it was impossible to use some wise, calm parenting when I couldn't hear my kids and had to yell for them to hear me.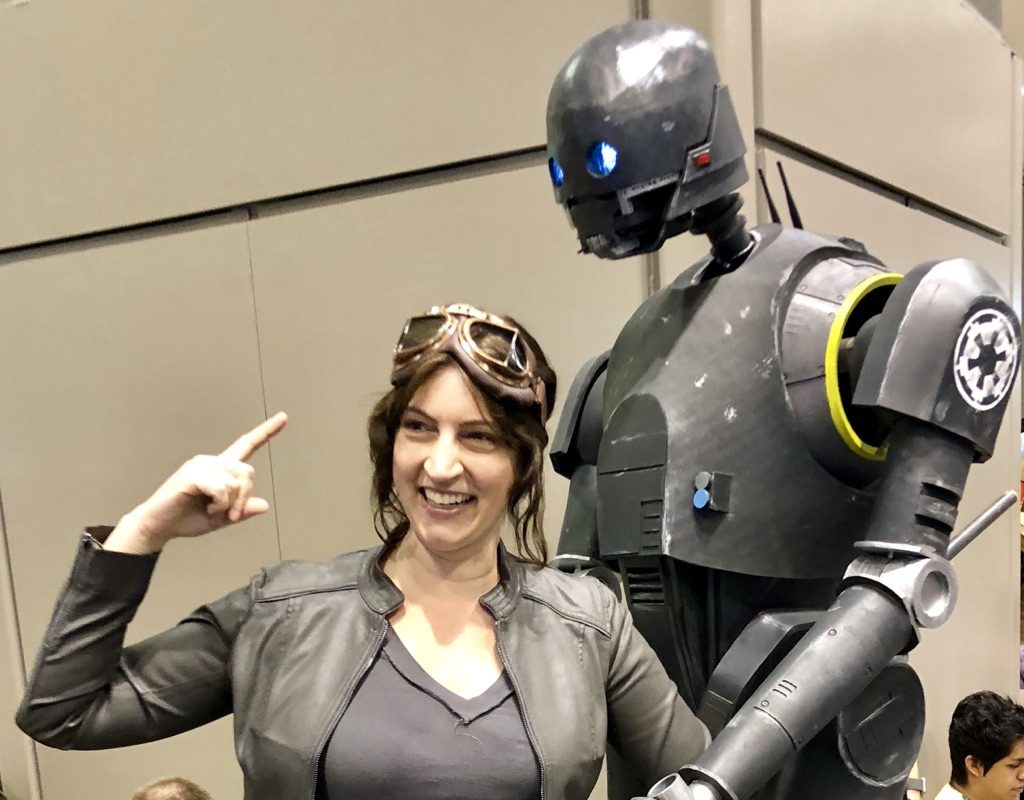 Why do kids have to wiggle and bump into us so much when they are whining? I could tune them out if they didn't have a way of making me feel they are about to trip me. (We all know why, of course, the wiggling and bumping gets our attention when the noise alone does not.)
The truth is we got some really great pictures. The kids were wearing masks, so you couldn't see their annoyed faces. The only time the kids stopped making us miserable was when we were waiting in an inordinately long line to get into a life-size interior of the Millennium Falcon and we let the kids watch half an hour of their favorite TV show on our phone.
Why stay if we were having such a rough time? There was the ticket price. That led to a feeling of wanting to get our money's worth. And we made some memories. Already the next day the kids were telling friends about how great it was and how they got to meet Star Wars characters and take pictures with them.
I thought my mom meltdown was a parenting failure, until I noticed something.
Why in the world am I writing about this? Because this doesn't really sound like a parenting success at all. We had a challenging and unhappy day, punctuated by some photo ops and brief moments of niceness. And I didn't even use the parenting techniques I write about… or did I?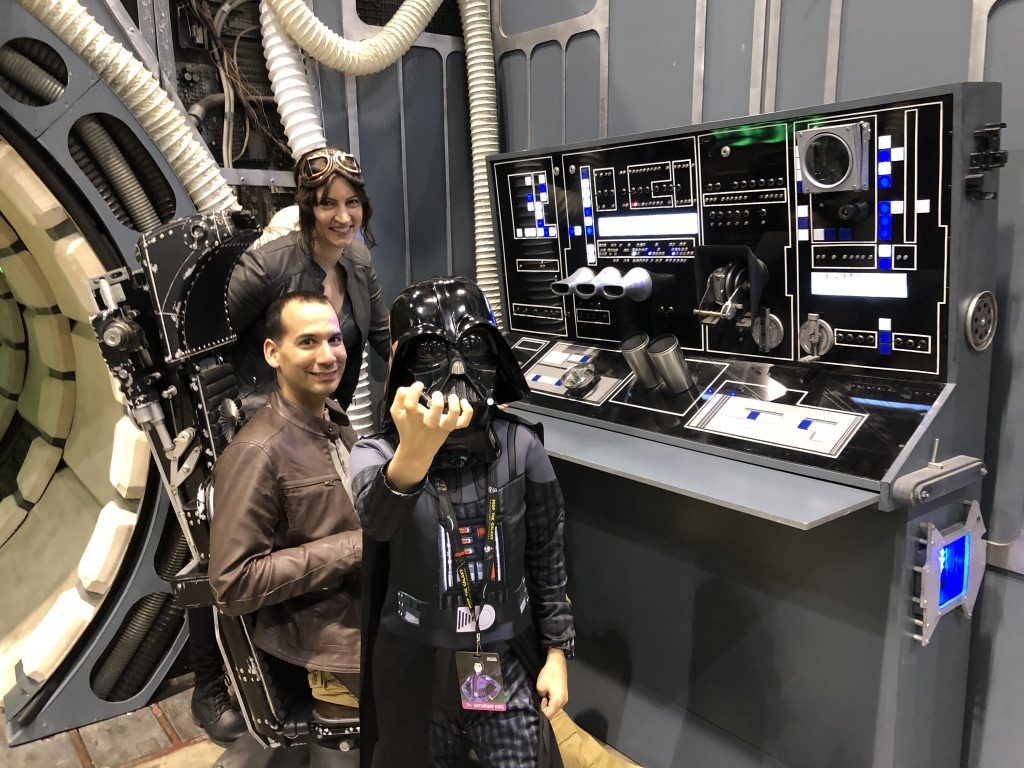 What I really took away from this experience was an understanding of how the 3S method and Should-Free Parenting works. Should-Free Parenting is about being effective. It's about not worrying about the "right" thing or the thing we "should" do. It's about trying to understand our kids at their stage of child development and with compassion for them and ourselves. It's not about being loosey goosey about bad behavior, but it is about setting boundaries in a way that works.
That day I was so overstimulated, I couldn't use my 3S method. I could have managed the noise and the crowds and the sore feet OR my kids behavior. But I could not manage both. I didn't even remember to take a deep breath or run my steps: Sigh, See and Start.
However, when I thought about it and compared that day with other times like it, I noticed I was different. First, usually a mom meltdown would set off a cycle of criticizing myself. This would make me even more irritable, because I was frustrated AND mad at myself for it.
Shoulds in my head make mom meltdowns worse.
Usually, I would have been thinking "I should be embarrassed that I had a mom meltdown publicly at a table and disturbed people near me. I should be humiliated by my kids' behavior. Why can't my kids just play with the legos like the other kids? I should not put up with them so much, I should be able to make them behave."
Yet, this time, my mind was quiet. Right after I caught myself melting down, I thought "Okay I need to eat." I didn't have to tell myself not to feel guilty, I just didn't. I bounced back fast, without having to wade through a lot of complicated shoulds and guilty feelings.
Sometimes we don't blame ourselves, we defend ourselves from parent guilt by blaming the kids or something else. But I didn't need to do that this time either. I just didn't feel guilty. That was new and different, definitely not my normal behavior.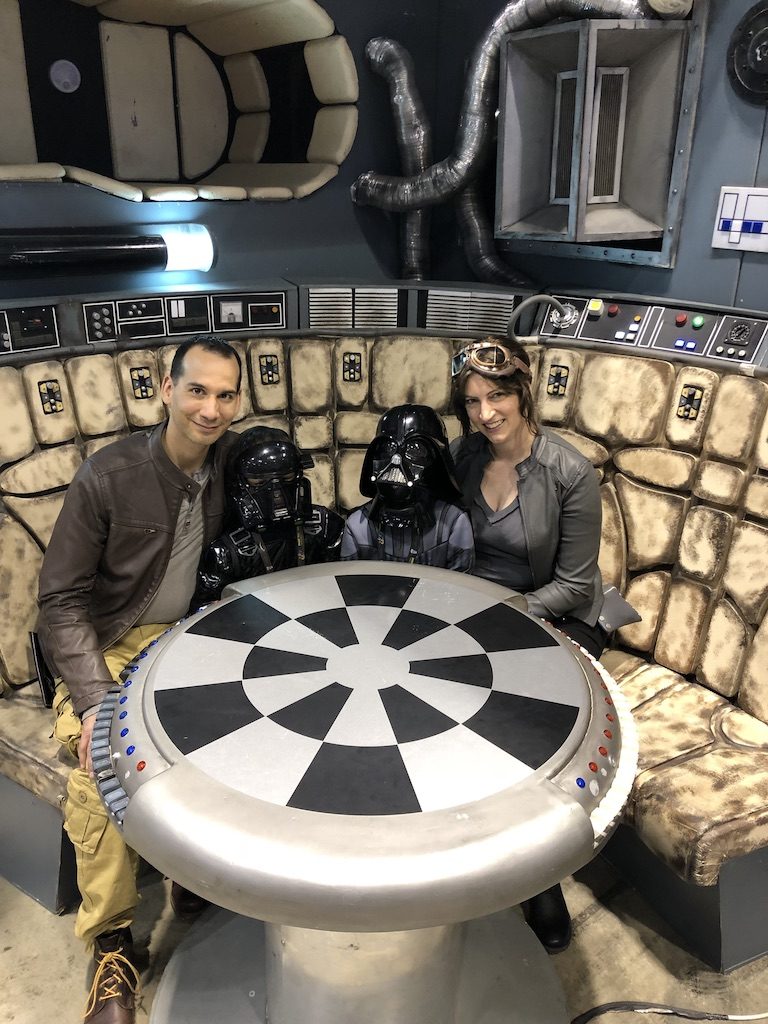 Finally, I realized that just because I hadn't thought to myself, "Okay, remember to Sigh, See and Start," didn't mean I hadn't done it. When I reviewed the day, I recognized that I had done the 3S method many times that day. I just didn't even notice myself doing it. I was doing it so fast and automatically, it was just rolled it into my behavior. It's becoming part of me, and that's fascinating.
The 3S method transforms us.
I knew the 3S method would have additive effects over time, that was something I claimed in my TEDx Talk right from the beginning. But now I'm starting to hear about this from other people and I'm starting to see it in me. When parents tell me that the 3S method is transforming their family life, I've asked myself it that is really possible. Now that I'm seeing myself transform, I'm seeing proof.
The shame I usually feel just wasn't there. I don't really feel embarrassed about my behavior even though my behavior was a little embarrassing. The graciousness of the man at our table helped, and the fact that no one publicly shoulded on me helped too. But the lack of anxiety was already there.
In the end, the biggest lesson I learned was that an over-stimulating environment like that was just not fun for us. Next time, we'll leave early.
If you want to know more about Should-Free parenting join us on Facebook where we have a really fun group of parents. Or explore this site for more blogs, or my blog for Psychology Today.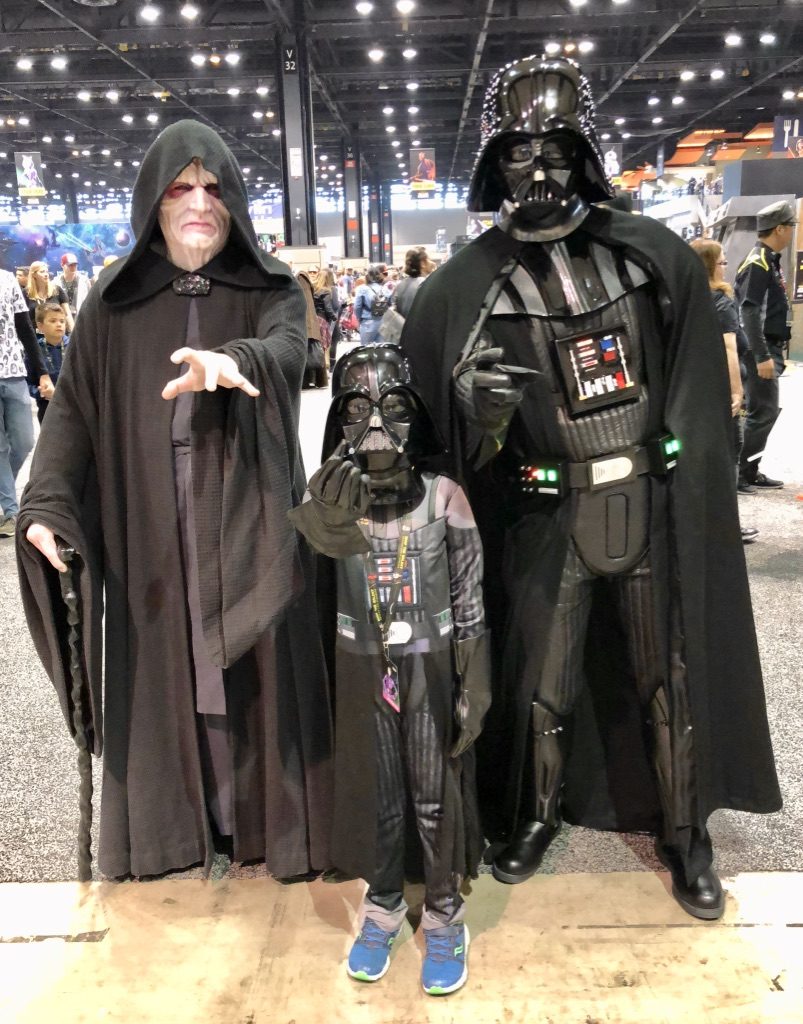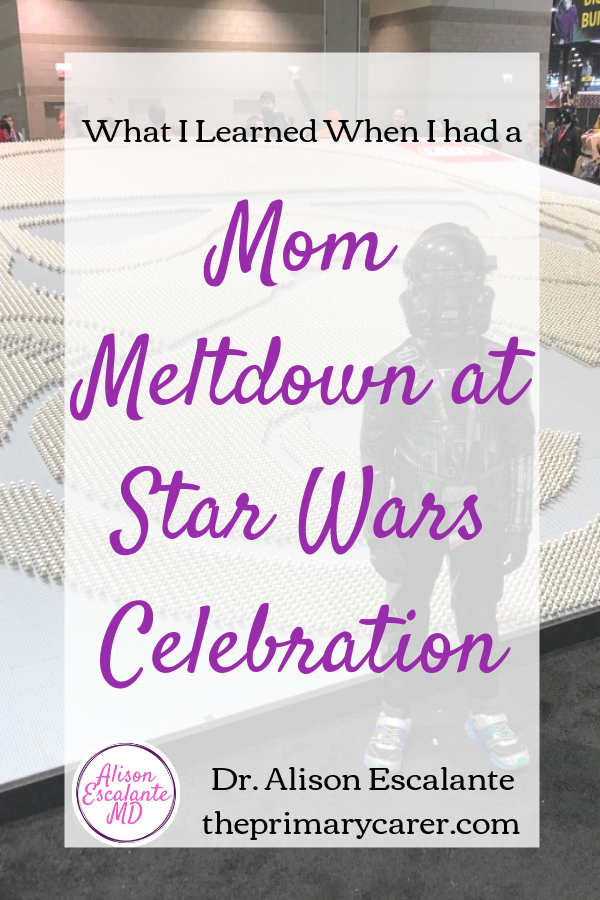 ©Alison Escalante MD
Disclaimer: This article represents general education and does not constitute medical advice. My ideas are mine alone.