PRE-ORDER MY NEW BOOK: SIGH, SEE, START at your favorite bookseller.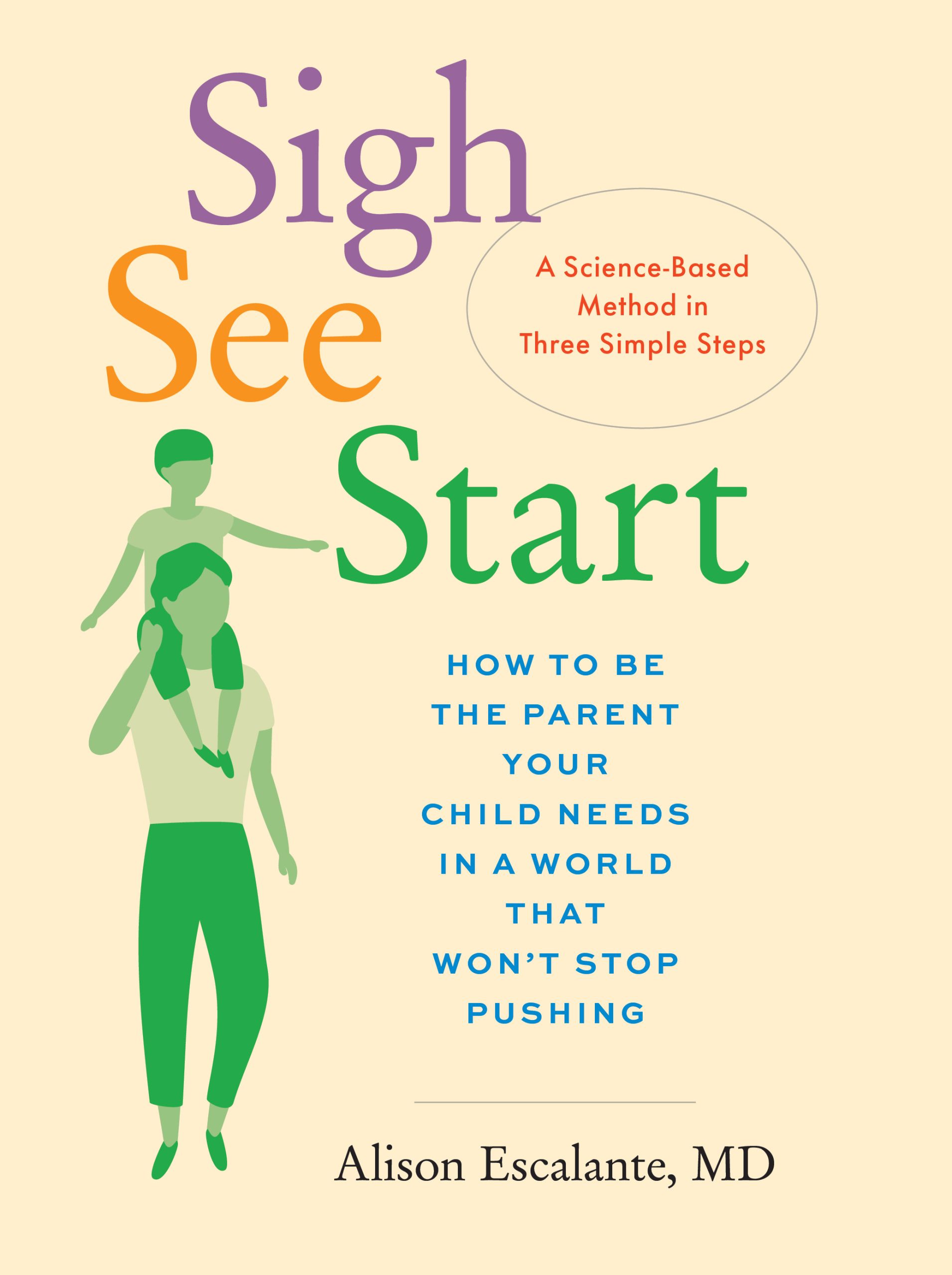 In a perfectionistic parenting culture that tells you that you are never enough no matter how much you do for your kids, this unique approach empowers you with a simple parenting technique to gain confidence, remain grounded, and connect positively with your children.
SCROLL DOWN TO READ THE FIRST CHAPTER FREE!
Advance praise for Sigh, See, Start:
"Dr. Alison Escalante and her See, Sigh, Start method gives parents a doable and proactive way to deal with day-to-day parenting challenges. Based in connection and co-regulation, this simple method is easy to learn, easy to put into practice, and helps us be more present and intentional with our children."
-Tina Payne Bryson, LCSW, Ph.D., New York Times Bestselling co-author of The Whole-Brain Child & No-Drama Discipline, and author of The Bottom Line for Baby.
"We live in a world where we feel like it's impossible to get parenting 'right'. I see this struggle every day in the baby sleep world where there is so much unnecessary pressure and stress on parents. The 3 step, science-backed method Sigh, See, Start helps us embrace should-free parenting!"
-Kim West, MSW, The Sleep Lady, Bestselling author of Good Night, Sleep Tight and the Gentle Newborn Sleep Guide.
"An absolutely brilliant piece on modern parenting. Filled with empathy, experience, and advice, this parenting book summarizes incredibly well the challenges that parents face, what children actually need, and concrete ways to approach the parenting role from a position of compassion, love, and knowledge."
-Kari Groff, MD, board-certified child and adult psychiatrist; owner and founder of Park Slope Psychiatry and Brooklyn and Beyond Mental Health Group.
"A timely, thoughtful and deeply insightful parenting book you're going to want to read."
– Laura A Jana, MD – pediatrician, author of Heading Home with Your Newborn and The Toddler Brain.
"A valuable approach for parents navigating the complexities of raising children in today's culture. A biobehavioral strategy that elevates parenting from practical management to an informed leadership model, acknowledging the child's abilities, experiences, and biology."
-Stephen W. Porges, PhD, discoverer of the Polyvagal Theory, founding director, Traumatic Stress Research Consortium, Kinsey Institute, and professor of psychiatry, University of North Carolina at Chapel Hill.
"It is a measure of her wisdom that Escalante is aiming to help children by curing their parents, with an inspired yet practical plan to shift the whole culture of parenting. It's not a moment too soon."
-Hara Estroff Marano, editor at large of Psychology Today and author of A Nation of Wimps: The High Cost of Invasive Parenting.
A must-read for parents and professionals who work with parents. The Sigh, See, Start method frees parents to be their best. This book is now top of my recommended parenting books!
-Susan Birne-Stone, PhD, LCSW, individual and family therapist, relationship coach and adjunct professor or psychology.
"Dr. Escalante demystifies the challenge of raising healthy children in a chaotic world. She guides us to trust our unique strengths while fostering the innate strengths of our children."
-Jake Eagle, psychotherapist, mindfulness teacher, author of The Power of Awe.
"What an important book! Warm, clear, and compelling, Dr. Alison Escalante presents a helpful and accessible guide for a diverse cross-section of parents: working parents and stay-at-home parents; LGBTQ+ parents and straight/cisgender parents; parents of typically developing and diverse children. I will definitely be using Sigh, See, Start!"
-Brian C. Johnson, LGBTQ and civil rights leader and author of Our Fair Share and the upcoming book, The Work is the Work.
"Valuable advice for anyone whose emotions are on fire. You'll love the real-life examples and actionable insights that can help you keep your cool – in the heat of the moment."
– Sam Horn, author of Tongue Fu! and Talking on Eggshells
About Sigh, See, Start
Dr. Alison Escalante is a board-certified pediatrician with more than two decades of experience who has spent the last ten years exploring ways to equip parents to meet their children's needs. She has experienced first-hand the culture of criticism and anxiety that drains parental joy and leaves parents feeling bad about what they should or should not be doing with and for their children. She calls this the parenting "ShouldStorm," and this book is her invitation to escape that cycle and be the parent your child needs.In this game-changing parenting book, Dr. Escalante outlines her 3-step science-based approach to escaping the ShouldStorm and embracing should-free mindful parenting. Going into detail about each step, she clearly explains how to implement this approach in everyday situations where parents may feel overwhelmed and shares real results from parents and children who use the technique:
SIGH: In moments of parental overwhelm, take a breath all the way into your belly. Imagine it's a sigh of relief. Sighs help you stop and center yourself instead of reacting to the "should" in your head. ​
SEE: Notice what's going on. See your child. Are they happy? Are they close to tears? Are their fists balled in anger?
START: Then, and only then, start listening, and start thinking about what an appropriate reaction would be. Do they need a hug? Some space? Something else?

In the vein of Good Inside, this book offers a simple approach and practical, proven strategies any parent can use. It also explores parenting culture and why it has become more and more intense over recent decades. For anyone who wants a proven toolkit for resisting a parenting culture that shames them when they can't meet unrealistic expectations, Sigh, See, Start is your new go-to tool for joyful parenting.
PRE-ORDER SIGH, SEE, START at your favorite bookseller.