I always loved my father's stories about his glory days as a runner. He was tall and lanky, an ideal build for a distance runner. He ran in high school, and he was later recruited as a runner in college. That scholarship was his path to an engineering degree at a good school. He used to love to tell stories about his races. His favorite races were the ones he nearly lost, when he came from behind and sprinted past the leader for the win. For my Dad it was always the joy of the contest.I was just the worst runner. Just terrible.
My whole childhood I was told that I was built just like my Dad. My nickname growing up was "toothpick," and the lankiness only got more obvious in high school. It was obvious to everyone that I was going to be a great runner.
When high school came, I went out for cross country as a freshman.
On the first day of practice, I felt like I was going to die. I went from no running to running a mile. Over time it got easier of course, but I always found the 5K races difficult.
There were a lot of good things about the Cross Country team. 13 other freshman girls went out for the team, so I was not the only one struggling. The team was co-ed, so that tended to cut down on any girl to girl drama. I made a lot of good friends through the team.
Being on the team gave me new opportunities to spend time with my Dad.
My Dad used to take me out on his habitual runs and give me coaching tips. It was great spending time with him. But I never told him how hard running really was for me, or how much I disliked it.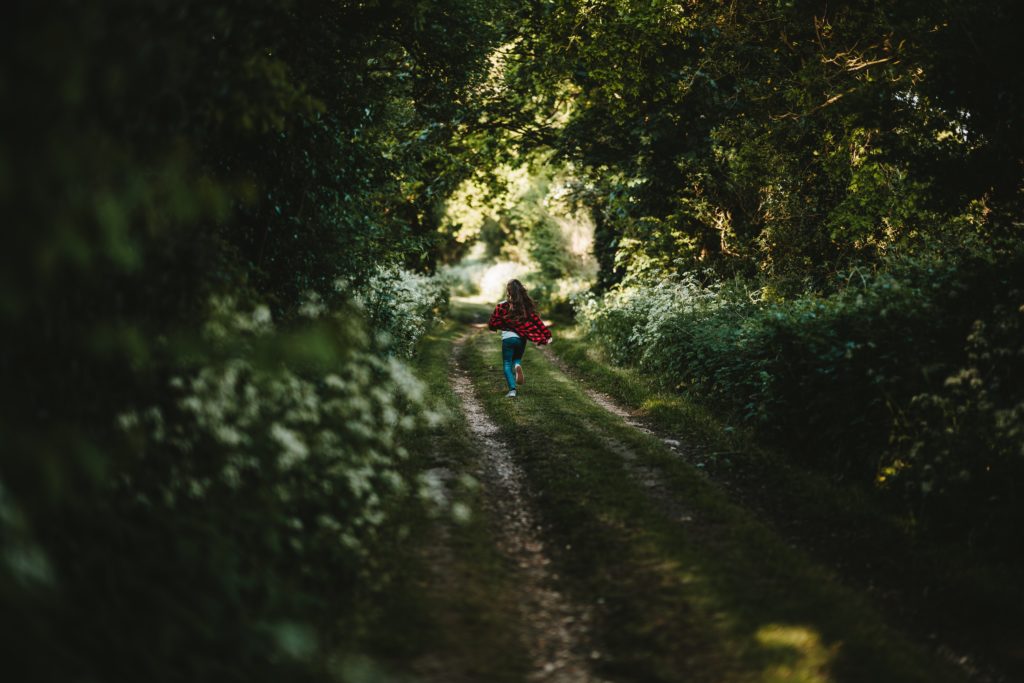 Dad's coaching tips were pretty good. I used to get this crushing pre-race anxiety. He was the one who told me to see that anxiety as energy to fuel the beginning of the race. That one piece of advice—to take performance anxiety that made me want to avoid something and use it as energy to take on the challenge—stayed with me.
I used that advice for the sport I was good at: fencing. I used it on my SAT tests. I used it on my MCATs. I used it in interviews. And I used it a lot during medical training, when my lack of experience made me afraid, but I still had to perform CPR.
My Dad had other tips. He told me about the misery in the middle of a long distance race. "There's always a point in any long distance race when you feel like you can't take another step, like you are just going to die. But what you do is take another step. And you keep taking another step until suddenly you start to feel good again. It takes mental toughness," he said.
That piece of advice has carried me through many difficult times in life. Because there are times in life that really are like a long distance race, with that horrible time in the middle when you don't know if you're going to finish. There are times in life when all you can do is endure.
I was just the worst runner. Just terrible.
There was a point my sophomore year where I thought I might have a chance to get better. I stopped being the last one across the finish line. I thought if I worked hard I could develop. After all, I was built like my Dad.
And there was that moment, at the beginning of each home race, when we would take off from the starting line onto a path lined by trees in fall colors. It felt like flying.
My junior year, my running was plagued by knee pain. I tried not to complain about it. We didn't have trainers on the team. It hurt a lot and it slowed me down. I felt really embarrassed about the knee pain because you know no pain, no gain.
And there was the breathing trouble. It was undiagnosed exercise asthma of course, but I didn't know that. I assumed the way I coughed and wheezed when I ran was evidence of how out of shape I must be. My assistant coach used to shout my name: "Pick up the pace and stop being lazy!" It never occurred to anyone that a simple inhaler could have fixed me.
My Embarrassing Secret
And I had a secret. I used to walk in the middle of the races, but only when no other runners were close by or could see. In the middle of cornfields, or in patches of the woods, I would walk. As soon as anyone could see me I would force myself to run again. I felt a deep shame about it. I was sure it was laziness and lack of the mental toughness.
It was so hard to come in at the back of the pack again and again, but I never told anyone how much I hated it.
Each year more girls dropped off the team. By my senior year I had every intention of quitting. I'm still not sure why I went to the first practice. There were only two of us left from the original 13 freshman girls. At that practice, my coach made both of us Co-Captains.
I couldn't quit now. I was applying for colleges and being able to put co-captain on my application would be a good thing to put under "leadership experience." But I felt it was completely unfair to my co-captain. She was actually a decent runner and I was terrible. She had something to teach the younger girls about running, and I didn't. She could lead the team runs, while I was dragging at the back. I didn't deserve to be a co-captain.
I felt like a fraud.
Since I had nothing to offer about running to the girls I was supposed to be leading, I tried to remake the role of co-captain. I became the team "medic." If one of the girls got hurt, I would grab ice or try to figure out how to do a wrap.
No one on the team that year said anything unkind to me. But I felt sure they were all just putting up with me. I even felt like a fraud when I listed co-captain on my college applications.
It was only over time that I understood all that my four years of running cross-country taught me.
The first lesson: How to fail.
You can argue that it's not failure to complete a race last, or to complete four seasons without winning a race. And you would be right, from one viewpoint.
But for that teenage girl, It was failure. I struggled to keep up at every practice, and I came in toward the rear in every race. I was not good at running. I never helped my team or contributed to the rankings. At each race, every time I showed up for practice, I faced down feelings of humiliation and anxiety.
And that is exactly why from an adult perspective this is a success story. That kid had persistence in the face of failure: grit.
The second lesson: Feeling like a fraud is not being a fraud.
Years later I learned the difference between feeling like a fraud and being a fraud. I felt like a fraud being honored with the title of co-captain. Wasn't that supposed to be the best runner and someone who could teach the other runners?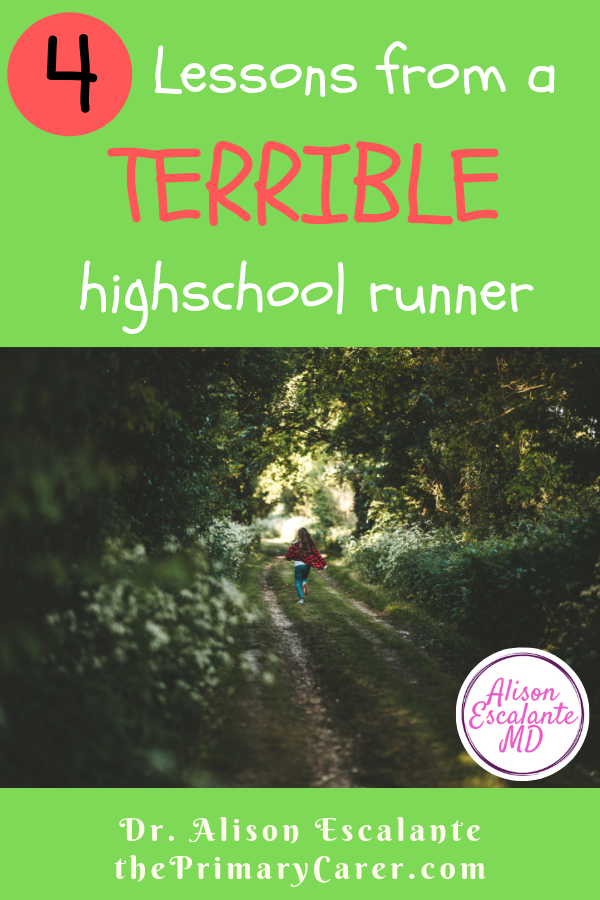 As an adult, I look back and recognize a teenager who found a way to contribute to the team as a "medic." I made room on that team for every runner, no matter how talented.
Maybe, just maybe, I taught those girls something about persistence. From behind. Way behind.
The third lesson: Limits.
Looking back, I felt it was a waste to invest so much energy in a sport I hated so much, even though I had my reasons at the time. I learned about my limits, and where to invest my energy. In college, I used what I learned there to decide what activities to commit to, and what to cut adrift. Where was the effort really worth it?
The fourth lesson: I can.
It hurt, it was not fun, I couldn't breath well and it made me anxious. I did it anyway, for my own reasons. I wish I could comfort that embarrassed teenager with these words, "You taught me that I can. And so I did."
I also wish I could tell her that asking for help with that knee and that breathing would have been a good idea.
Life is full of long distance races. Sometimes it feels like you can't take another step. But if you keep going, one more step, you just might find that you feel okay again. And if you go a little bit further, you might just feel amazing.
Disclaimer: This article represents general education and does not constitute medical advice. My ideas are mine alone.