Parents of kids with special needs are worried about their kids ability to keep masks on at school this year. Kids with sensory processing or autism can really struggle to tolerate something on their face. The good news is that there are ways to help them do it.
Jen Jimenez, a former school principal who currently works with kids with autism, has some great advice:
Getting used to the mask.
1. Try to find the softest mask possible. Mrs. Jimenez suggests the masks offered by strongselfie.com. (Dr. Escalante advice: I have found a nice assortment of soft adjustable masks instore at The Learning Express, an Illinois toy store chain. Also, sockfancy.com offers some very well designed masks with soft cotton.) None of these are affiliate links, they are just places to find good masks.
2. Start by having your child hold the mask in her hand during a preferred activity. Set a timer, show an end reward, gradually increase time.
3. Once she is comfortable holding it, have her wear it on her hand wrapping the ear loops on pinky and thumb placing mouthpiece on back of the hand. Use the same drill of preferred activity, timer, reward, and gradually increase the time.
4. If she's comfortable with it on the back of her hand try to get her to brush her own cheeks with it. Once she's comfortable, move to the face. I'd start by using the mask to brush her cheeks and again timer, reward, slowly increase the time.
5. Next move to placing the ear loop on one ear while you hold the rest of the mask. Then move to the other ear. Eventually moving to wearing the mask.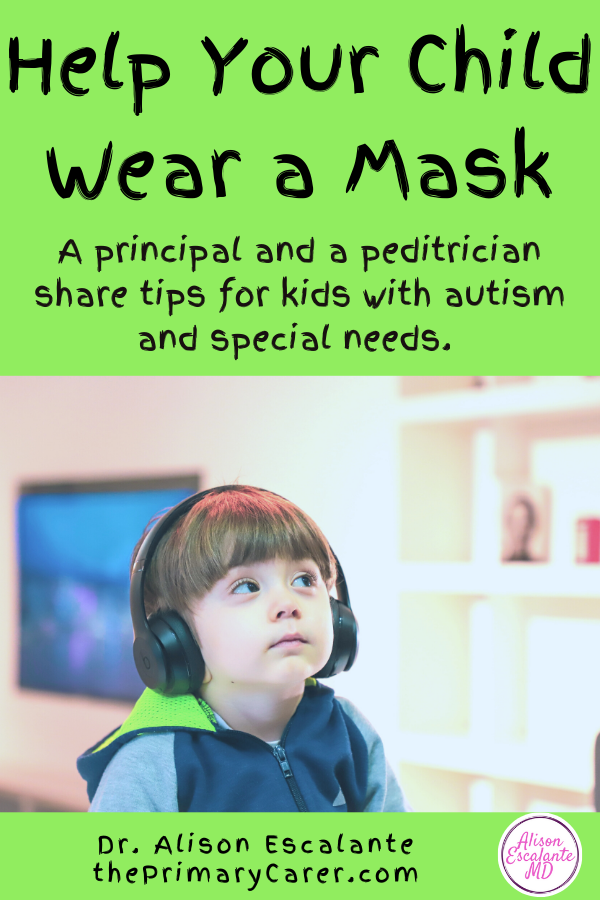 Supportive tools for kids in masks.
6. For autistic children with ABA therapists: your ABA team can create visual picture cues for each of these steps.
7. Dealing with mouth odor: when you move to wearing the mask you can give your child gum or hard candy in her mouth to help with odor. (Strongselfie.com does actually sell a mask refresher scented spray however I haven't smelled it.) If your child has a preferred odor I'd rub the mask with it!
8. Once your child is built up to five minutes of mask-wearing I'd try small outdoor mask-wearing preferred activities, "First mask, Then sidewalk chalk" etc.
9. Try putting masks on all of her favorite toys for visual cues. There are a bunch of great social stories for children about mask-wearing on the internet that can be read to your child before each step. (Check out these free printable stories about Covid-19 for kids with autism that look good for other kids too.
10. You can also use a mirror so she can watch how she looks during each step. If your child has a preferred fabric try lining a mask with it….for example several of my students like the bumpy yet soft fur of teddy bears and often bury their faces in that.
11. My kids often complain the mask is hot so I've started keeping them in the freezer and putting it on them cold. My other thought is trying a face shield or experimenting with a bandana or even the neck wrap type mask that pulls up over the nose.
Mrs. Jimenez wants to help kids with masks. She wraps us this way, "I hope this helps you some. Mask wearing is hard for a lot of children."
---
This post came from the Facebook group Should-Free Parenting, where parents work together. Instead of being driven by the culture of perfectionism in parenting I call the ShouldStorm, the parents in our group are going for authentic connection with their kids. We'd love you to join us.